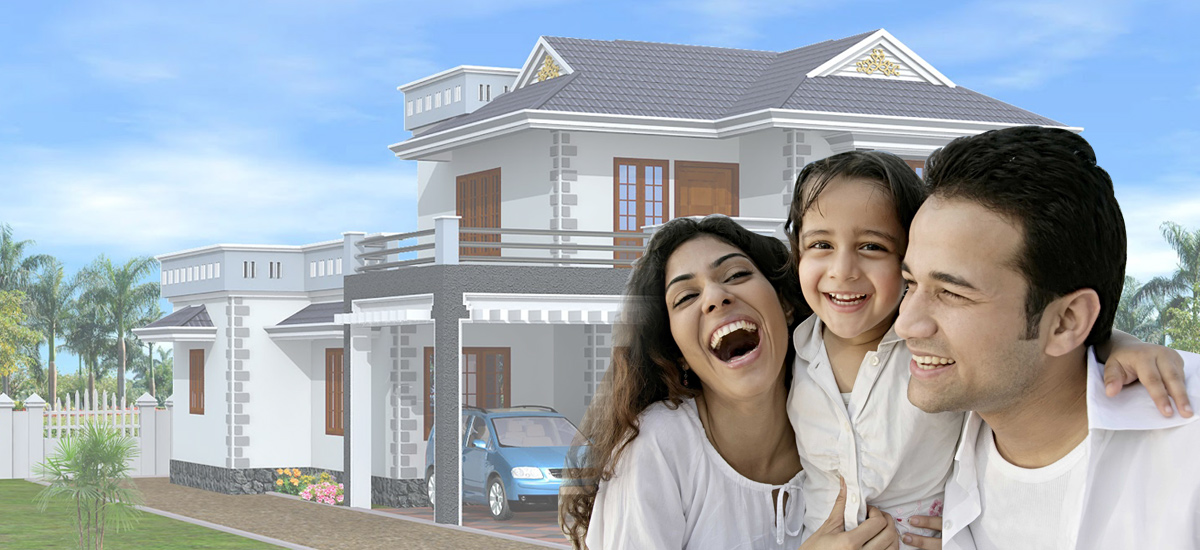 Home Loan
Home loan, as the name suggests is a loan taken for buying or construction of home / residence. Apart from this, home loan is also taken to buy land and construct a house on it or to renovate or repair an existing property. Home loan, thus, helps in realization of dream of owning a home even if a person / family do not have ready cash to pay it all up front. There are certain lending norms for availing a home loan and these vary slightly from one lender to another.
Banks usually lend between 75-80% of the value stipulated in the agreement and the rest amount is borne by the buyer (borrower). The valuation of the property is carried out by the bank and in cases and is usually come out to be lower than borrower's expectations. The lending rate varies from one lending institution to another and also depends on how the economy and real estate sector is performing.
Home Loan can be classified as:
Ready House/Flat purchase – A simple home loan that enables you to purchase a new residential property (house / villa / flat).
Land purchase and construction – For the purchase of approved plot and residential construction on it.
Land purchase – A loan for the purchase of approved land. Different lenders may have different criteria for approval.
House construction – This type of loan is only for the residential construction on self-owned and approved residential land.
House improvement – This is for the renovation of house to get the desired look and comfort.
House extension – This loan is for structural enhancement to strengthen the present building and improving the spaces.
Balance transfer – This loan is to get a better offer, that is, reduced ROI on existing home loan by taking it over from the current financial institution to another.
Seller balance transfer – This loan is beneficial for the buyer if there is a running home loan on the seller property. Buyer can avail a home loan on the purchased property and the amount will be directly given into the seller account.
Top up – One can get enhanced amount from the existing lender on the running home loan.
Pre-approved home loan – One can get the loan approved prior to finalizing the property to know his / her maximum loan eligibility.
Some set criteria that are taken in to consideration by the lender are:
Credentials of the borrower (Income, Age, Duration, CIBIL, KYC etc)
Credit history
Other loans that borrower is paying (or liable to pay)
Type and age of property
Since the home loan is generally repaid over several years, lenders prefer that the borrower take an insurance to protect this loan. While going for a home loan, there are certain things to be kept in to consideration:
Cheapest deal (interest rate) may not be the best as there are other aspects to be considered.
Experts suggest that a floating rate of interest should be preferred over a fixed rate of interest.
Go for a lender who offers a daily reducing balance instead of monthly. This will matter in case you want to make a partial repayment.
Take opinion of others but ultimately understand the mathematics yourself before you take a decision. Other people may not be as wise as you are!
Consider online feedback on lender and mark the oft-repeated problems and good points. Most feedback is credible but some miscreants can try to manipulate to stain the reputation of a lender.
Consult good professionals like Chartered Accountants, Tax Planners etc.
Ascertain that the lender will provide good services. Service quality can be a challenge. The product may be lucrative but at the same time services can be a turnoff.
Compare a few top performers and choose the one who suits your requirements best.